EWSD School Board Candidates Debate at Student-Led Forum
"It is not [students'] job to ensure their [own] safety" a social worker and audience member said at the EWSD School Board candidate forum last week. This was in response to some candidates saying that marginalized students, especially LGBTQIA+ students, didn't need extra support or inclusive curriculum, and that, as candidate Earl Barber said, students should "just be nice" and stand up to bullies. The social worker said that she "work[s] with children ages five to thirteen who are actively suicidal, because we're saying to them, that you're wrong to identify the way you identify."
According to the Essex-Westford School District website, "The Board provides fiscal oversight, policy development, and other resources to enable teachers, administrators, and staff members to prepare students to meet standards set by the state and federal agencies." The Vermont School Boards Association states in their code of ethics that "a board member's responsibility is to see that schools are well run, but not to run them." While a school board member is able to impact policy, they are not able to change state or national curriculum standards.  However, school boards across the country have increasingly become ideological battlegrounds over equity policies and curriculum, and the EWSD is not exempt. On September 21, 2021, there was a board meeting about whether the Black Lives Matter flag should continue flying at EWSD schools, and while they ultimately decided to keep the flag, the meeting fully brought to light the deep divisions within our community. Recent elections on Town Meeting Day, March 1st, seemed to show that voters are rejecting divisive and one-issue candidates more often than not, but one-issue candidates, who oppose the equity policy and are motivated by what they call "parental rights," are trying to win seats on the EWSD School Board.
The EWSD School Board election will be on April 12th, and there will be an open meeting the week before, April 5, for the community to hear from the candidates. Three seats will be up for election: one in Essex Junction, and two in Essex Town. Five candidates have filed to be candidates for the Essex Town seats, while the battle for the singular Essex Junction seat is between two candidates. 
At a candidate forum on March 27th, organized by the Essex High School Social Justice Union, a student-led club, and hosted by Uncommon Coffee, these divisions over the Equity Policy and curriculum remained under the surface at the beginning of the event, but they quickly bubbled to the surface. 
In addition to the three student moderators, Jenna Hirschman, Raquel Mattos-Canedo, and Wade Winter, and the student organizer, Iris Hsiang, three Essex High School students attended in person, along with around a dozen other community members. The event was also live streamed through Facebook. Although technical difficulties required that the livestream be ended, the recording can be found on Facebook and in a link at the end of this article.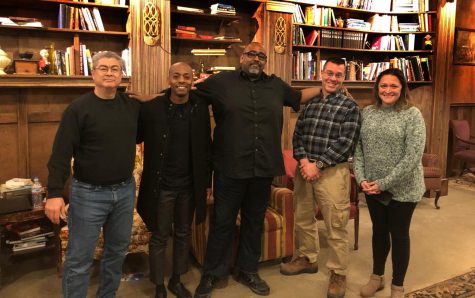 From left to right: Earl Barber, Juan Coleman, Marlon Verasamy, Roger Drury, Laura Taylor
Candidates not pictured: Robert Carpenter and Al Bombardier
Roger Drury was the first candidate to introduce himself. "I'm a third-generation graduate of Essex High School, so I'm kind of familiar with what you're going through, though it was almost a hundred years ago," he said. 
Roger Drury is a candidate for one of the Essex Town seats. Drury is an eighth generation Vermonter and a third-generation alum of the EWSD. He spent 36 years in the Vermont Army National Guard, and now works at Champlain Valley Weatherization. On his website, Drury stated that his focus as a board member, if elected, would be to "listen to constituents, balance requirements vs desirements, and explore the return of industrial arts to middle schools." Drury is against the equity policy, claiming on his website that the "undertone intends to divide rather than unite." He adds, "Social activism remains important in our society; however, I disagree with activism directly impacting the school curricula." Drury would also want to impact the curriculum by implementing a sort of rating plan for books, where different content is restricted to different age groups. He also is against flying the Black Lives Matter flag at the schools because he thinks it is too political. Similar to other candidates, Drury wants to let parents have more of an influence over the district, stating that the board should look at why parents are moving to private education. Drury also supports school-choice vouchers, but he still wants to keep more families in the district.
Earl Barber used the introduction to immediately counter some objections to his platform. "I kinda want to talk a little bit about myself. So things that are not on my website, kind of might give you some insight into my character… my wife and I hosted a Somali refugee family. They stayed with us, they had a different skin color, different religion… I've adopted a child with special needs… I've taken in people that have experiencing homelessness. I've taken a person that has come from the LGBTQ community… And in all of this, you know, I just loved all through the process. We never asked for any kind of money in any way, shape, or form… this lets you know that I care about people, I really do. And I really think a lot of these people do too. But for some reason, you know, I just think it needs to be out there because I think I'm going to get spun a different way because I tripped over my words and I really don't want that to happen."
Earl Barber is Japanese-American, an Essex Town resident, and a father to four daughters. Three of his daughters have graduated from EHS, while one is currently a senior. Barber has lived in Essex or Essex Junction for the past 23 years, but he was born in San Antonio, Texas. On his website, Barber wrote that "growing up Japanese-American in southern states was not always a pleasant experience.  The stereotype for Asians back then was that we were dirty, sneaky, yellow, and dumb people.  Unfortunately, I didn't know of anyone else, besides my siblings, who looked like me, so I know the taste of isolation and prejudice well." He moved a lot because his father was in the Air Force, a path he would later follow by spending six years serving in the U.S. Marine Corps. Currently, Barber works as an analog IC designer. Barber is running to promote, in his words, "pro-parent" policies. To Barber, "pro-parent" "means that the parent should have access to everything (curriculum, lesson plans, hand outs, topics of discussions, etc.). [while]… it is impossible for the parent to have access to everything… the school can do a much better job… this would not be hard to implement," he wrote on his website. Barber also wants to avoid any topics that "adults outside of the school environment" do not agree on, his website says. This could potentially cover everything from climate change to racism.  Additionally, he does not support students' right to protest, with the caveat that "students can still be active on controversial issues, but just not during school hours with a captive audience," he wrote. Other than limiting topics he deems controversial and increasing parental control of education, Barber wants to increase budget transparency through a summary and a detailed, line by line budget.
Juan Coleman, who has a similar platform to both Drury and Barber, spoke next. "I actually had the opportunity to be in every possible school system on demand. Public school, kicked out, sent the private school kid down, got held back before I got kicked out. And then I ended up getting sent to a boarding military high school. And that actually is where I actually discovered a love Rotarian structure that discipline and that law… I do not have children of my own yet, but that is in the plan someday. But I do care about each and every person regardless of race, gender, ethnicity, orientation or anything like that. That's not a concern. Our concern is the individual human aspect. And that is why I'm actually running and it's actually good to see you all in person without having to see somebody on Facebook," Coleman said. 
Juan Coleman was born in North Carolina and has lived in Vermont for the past 16 years. He served in the Vermont Air National Guard and currently serves in the U.S military. He announced his candidacy for the single Essex Junction seat in the fall, which The Hive covered. Coleman does not think that being a parent is an essential qualification for the EWSD School Board, comparing it to other professions that work with children, like physicians or teachers. Coleman is against the equity policy. On his website, he states that he will work to "ensure tax dollars are being spent to enhance children's education and empower all children as individuals by encouraging them to achieve their personal best rather than aiming for an 'equitable line'… Is it better to set a standard for someone or is it better to teach and empower individuals to raise their own standards for themselves?" In response to the question, "How would you support EWSD student needs regarding the use of pronouns," his website states that "I am committed to the students and community by upholding the highest standards of truth and ethics that correspond with reality."
Marlon Verasamy is the final candidate running for the Essex Junction seat. His daughter graduated from Essex High School last year. Verasamy said, "She had great experiences here overall, at EHS, but it was not without its challenges, the sort of challenges that all you guys have gone through over the last few years. So for me running, it's about trying to help the system continue to get better. There's been strides in the last few years with what the School Board has done, and I want to… continue to make this experience for all you guys as inclusive as possible so that every student can benefit from everything that EHS has to offer and EWSD has to offer."
Marlon Verasamy has lived in Essex Junction for over six years with his wife and daughter. He has worked as a meteorologist in the Air Force, and currently works for the National Weather Service. To introduce himself, Verasamy wrote on his website, "As a father, I've seen my daughter grow and thrive in EWSD schools at ADL and Essex High School. That is not to say that it wasn't without its challenges. As a mixed family, there have been challenges that she faced in the schools that other families have gone through as well. I feel through our experiences, I can bring another voice, along with the voices of children and parents that spoke out so bravely over the last year. They started the conversation, and I hope to help continue it." Verasamy supports the equity policy, stating that "race is a difficult issue to address. For some, they'd rather not address it or argue that talking about race is the real problem. There's never been a problem or issue that is solved by not talking about it. The equity policy is also more than just about race. It's allowing teachers to better engage students and their families individually. It allows teachers to also better communicate with parents on topics that might make them feel uncomfortable by being able to effectively explain why these lessons are important. More stories are being shared and it's allowing students of all backgrounds to be seen and heard." Additionally, Verasamy is against school vouchers. He also wants to improve communication between the School Board and the community, and facilitate conversations about the school district's aging infrastructure. 
Laura Taylor is running for one of the Essex Town seats. She is the only woman candidate, and the only current teacher. Taylor said, "I came up here in 1997 to attend St. Michael's, and my mom still tells the story that she dropped me off on that first day, and I never really came back… one of the reasons I'm running for [the] School Board is I think it's really important to have an educator's perspective on the School Board. I know how public schools work, and I think I have a lot to offer in that realm. And I've been advocating for Milton kids for 21 years and I'm looking forward to having the opportunity to advocate for Essex kids too."
Laura Taylor lives in Essex Town with her two sons, ages 11 and 14, and she works as a Spanish teacher at Milton High School, where she has worked since 2001. Taylor has consistently been involved with local politics, starting the "Engaged Community Members of EWSD" Facebook group and participating in this past summer's Emerge Vermont program. Emerge Vermont, founded in 2013, is a program that trains Democratic women to run for office. Notable alumni include Becca Balint, the current Senate Pro Tempore and candidate for the U.S House of Representatives, Speaker of the House Jill Krowinski, and Lieutenant Governor and other candidate for the House, Molly Gray. Taylor graduated from St. Michael's College with a bachelor's in Spanish, and then got her master's in education from Johnson State College. Taylor is supportive of the district's equity policy and flying of the BLM flag. "School boards have become political and ideological battlegrounds, and I want to right the ship and steer it back on track to put the focus back on the students," Taylor wrote on her website. She added that while "parents should be involved with and engaged in their child's education," "The term 'parental involvement' has been used by some to demand that parents dictate school curriculum, which I do not support.  Our educators are experienced professionals who are highly trained in research-based best practices; they must retain their autonomy to plan and implement curriculum." Taylor is also opposed to school-choice vouchers because she believes that it is the choice of a parent to send their child to a private school, and therefore the taxpayers should not need to fund it. 
Robert Carpenter and Al Bombardier, who are both running for the Essex Town seat, were unable to attend the candidate forum.
Carpenter was appointed this past November to fill an empty seat, and is now trying to keep it. He has worked to acknowledge his privilege and use it to help others, saying in an interview on the EWSD website that he was committed to "considering each agenda item through the lens of equity." and "centering student voices." Carpenter has experience both as a parent, as the parent of an EES student, and teacher, as a former high school math teacher.  Additionally, Carpenter has "spent over a decade in nonprofit leadership and education roles partnering directly with school districts," which  "has included coordinating tutoring, mentorship, nutrition, mental health, and social supports; as well as directing programs for students with special needs, student-run community gardens, and community-based court diversion initiatives," Carpenter said on the EWSD website. Currently, Carpenter serves on the executive boards of national youth leadership programs, where his experience in data analytics proves especially useful. 
Al Bombardier, who has served on the EWSD School Board for twenty years, is running for re-election. Bombardier has a Master's in Administration, and has worked at IBM and Homeland Security. He has supported diversity efforts, but was criticized, along with other members of the board, for approving the nomination of Robert Carpenter to the vacant seat, when three of the other candidates were women and one was a woman of color and one was the parent of a student of color. 
Uncommon Coffee was a fitting place for the forum. The candidates sat in front of a towering wall of books, which served as an apt symbol for education. However, the first question and those that came after did not focus on the traditional basics of education, such as reading, writing, and arithmetic. The forum opened with a question that reflected the increasingly divisive nature of school board conversations: could you support a decision you did not vote in favor of? All of the questions from the first portion of the event were submitted by EHS students before the event.
While all candidates agreed to accept the board's decisions, there were varying levels of support for the importance of board unity. Barber said "For me, there's a difference between support and accept. I mean I will accept what the board does, but that doesn't necessarily mean I will support it in the sense that I agree with that," but he did add that "there's no reason to pitch a fit or drag it on for weeks or anything like that."
Drury, Verasamy, and Taylor all emphasized the importance of unity, Drury citing his military experience, and Verasamy and Taylor citing EWSD School Board policy. 
Coleman said, "it's just important for me to control the controllables, that's my thing. I pride myself on that. There's a lot of stuff that you can't control. But I can control my reaction and my response to it. And once that decision is made to understand why others made that decision, and sometimes you may change your mind, sometimes you may not."
Other than a question about communication between the board, school administration, and the student body, the remaining questions focused on more divisive issues, including the rights and representation of LGBTQIA+ students,  school vouchers for religious schools, the district's Equity Policy, and teaching about history and race. 
 The equity policy is often misrepresented, in terms of its academic goals, as being about getting everyone to the same level. In contrast, the equity policy is about removing barriers to student success so that all students can reach what success is to them. On the EWSD website, it explains that "When we look at our data, we see that there are barriers for some students in reaching their goals; we can predict which students have more barriers based on certain characteristics. For example, we can see that many students who are eligible for special education, live with financial challenges, are Black, or do not speak English, and more, are not reaching their goals yet."
Drury, Barber, and Coleman all stated that they supported the teaching of history, but that they were concerned with the lens being used to teach history. Drury said, There's no reason for us to hide behind anything regarding our history. That being said, I certainly understand that in today's lens, a lot of the decisions that were made in the past are not exactly up to today's standards for morality. … it's okay to use today's lens and teaching the truth. What I don't care for particularly is rallying behind a cause." Barber shared a similar sentiment, saying "Race should be taught and there's no reason not to… It shouldn't be beautified," however, Barber added, "I'm afraid that we're knocking down some of the Great's of American history with a political lens of today… even though what we did, you know, when we colonized was, like Roger said… was horrible… in the end, we ended up with a great country. Great government. I am proud to be an American and I think everybody else here should be proud to be an American." Coleman said, "I definitely believe, firmly believe, that race should be taught, but which lens and which perspective, that's the actual question." When Coleman announced his candidacy, he focused on the idea of historically marginalized students, mainly Black students, feeling "victimized" and white students feeling guilt while learning history.
Verasamy and Taylor emphasized the importance of teaching all history and having difficult conversations in the classroom. Verasamy talked about the importance of seeing the broad picture and referenced his travels around the world. "[I] lived [in Germany] during the 90s, and they would talk very in depth about what happened during the lead up to World War Two, during World War Two and after, after the fact. And a complete history, the good, the bad, and the very, very ugly. The point of that was to help their citizens understand what happened in that timeframe, and… to learn from it. And hopefully, hope that would never happen again. I believe we've seen the same thing here. We can't really begin to understand history, until we teach all of it in its entirety. And once we can do that… all of you will be better citizens," Verasamy said.
"History is not pretty… and I think we would be doing all of our students a huge disservice if we didn't have really open and honest and often uncomfortable conversations about our history," Taylor added.
Another question, submitted by a 12th grade student, was, "How would you support transgender-affirming curriculum in K-12 education if elected?" The student also asked, "If that is not something you support, why not?"
Roger Drury was the first to answer. He opened his remarks with the statement that "that's a very pertinent question. And I would like to reflect on that it came from a senior. And I think as a senior, that's a very valid and concerning question. And for seniors and juniors, I would support this honest open discussion about transgender relations. K through 12. However, I do not support any sexualization, or discussion of sexual preferences for the younger students." The student moderators and organizer tried to later clarify that LGBTQIA+ affirming curriculum can be as simple as reading a picture book in which the family has two moms, but Drury, Barber, and Coleman consistently talked about the "sexualization" of younger students. 
Barber said "I don't know why it's in the curriculum for kindergarten or first grade or second grader. That to me just shouldn't be there. I think for the younger children, what we need to do is teach them to be nice… And for the older kids as they mature and whatnot, I still echo be nice, that just still covers everything. The problem with trying to put in there every social affirmation into the curriculum, is where does it end?"
Coleman talked about listening to "the experts" and asked, "at what age do we decide what's developmentally appropriate? And for me, the mind of a child is very susceptible to influence."
Verasamy and Taylor argued against these perspectives, saying that the experts are the ones who are working right now, on a state level, to develop curriculum, for all ages, that represents LGBTQIA+ people. 
Verasamy said, "Those are the experts. We're looking for experts to come in… they're working with our school district… I think we kind of conflate the idea of sex with identity. They're not the same. Again, if we're talking about a mother and father together, to a first grader, they can understand that. If we're talking about two fathers together, they can understand that, that's not sex… I believe that there's appropriate language that can be used for children K-12." He added that curriculum does not even fall under the control of the School Board, and that while the candidates are not experts, "experts are working on it. I trust them."
Another question submitted by a student was, "Do you want school vouchers for religious schools?"
Verasamy mentioned that school vouchers have a long history, referencing that the school choice movement first rose after desegregation of schools began. He also added that the School Board is not even able to make the decision about whether to allow school vouchers for religious schools.
Taylor said, "I absolutely do not support school vouchers at all. I do want to reiterate the fact that Marlon made that this is… just not something that the board deals with." Taylor also compared it to another use of public tax dollars, the police. "I haven't called the police in the last five years, probably I'm not going to demand that my money that you know, went to the police, I get it back, which is not how taxes work. And if parents want to send their kids to private schools, they absolutely have that choice. And for a lot of kids in a lot of families. That is the best choice for them. That's fantastic, but not at taxpayer expense."
Barber, Drury, and Coleman were not strongly for or against school vouchers.
Drury said that "the board should look at it as… a collective and work the decisions from there." He also said that he wanted to focus on why families were leaving the district, and try to attract them back." Barber mentioned that while it was not on his platform, he thought that the issue deserved research. He said, "I guess we could go study that and say, Is it working or it isn't? And one of the ways we could figure out if it's working is are the students performing well, so that's really the bottom line. We want our students to have great academic skills." Coleman echoed Drury's idea that the board should look at why students are going to private schools or being homeschooled, and mentioned that there are options, even though they aren't often publicized.
The rest of the conversation revolved around inclusive curriculums and what students need: a feeling of safety and belonging so that they can learn better, and a more dynamic understanding of others, or a simpler, math, English, and science only curriculum.
When asked if they supported LGBTQIA+ youth, and if they did, how they would show that, some of the candidates deflected, asking why those students should be prioritized over others, and described it in slippery slope terms.
Barber said, "There are a lot of different marginalized groups. So I'm not quite sure why this particular one is giving preference over the others and that is the division that he's talking about. When it boils down to all of it to me, it goes back really to the very nature of the thing that just being nice. Why don't we just keep being nice?"
Drury added, "I think that every citizen student needs and deserves to be treated with dignity and respect" but that "we've got to stop putting folks in the category. Every time we put someone in the category, you're marginalizing somebody else. It happens every time. This group's being part of a pedestal. This group feels left out. This group gets mad for they want to be on a pedestal. This group feels left out. We've got to stop this and just treat people correctly."
Verasamy countered this perspective, saying, "So this is a pretty powerful platform. And I think when people ask you about divisiveness or why this group, this group that we're talking about here, [the] LGBTQIA community, they are twice as likely to skip school… again, this is also from the training that our staff gets. They are three times as likely to drop out of school, they are four times as likely to commit suicide. So when you ask why this group, it's because this group needs help… It's not about putting them in categories…This is a group that needs our help today… We have the statistics, we know they need our help." He also emphasized that these questions were coming from students, and therefore showed what students need and are prioritizing.
Coleman then brought up that black men are marginalized as well, but Verasamy compared it to triage, a comparison that Coleman and Drury, having both served in the military, would be familiar with. Triage is the medical system used to prioritize patient care based on the level of urgency of their medical situation. He described it not as an either/or scenario, but as helping those most in need, which he described as being the LGBTQIA+ community. Drury used this metaphor to talk about helping people on an individual basis, not as groups, but Verasamy returned to the fact that, as he had shared earlier with statistics, these are communal, not just individual, trends and issues.
Verasamy listed the tools for addressing these issues as the Equity Policy, staff trainings, social-emotional learning, and other similar programs or strategies.
Taylor added in her perspective as a teacher. She said, "I can tell you that kids won't learn and kids won't perform well academically if they don't feel safe. If they don't feel recognized and accepted… and it's not like somebody else getting equal rights… doesn't mean less rights for somebody else. It's not like we're like, okay, let's only talk to you know, LGBTQ kids today. That's absolutely not happening… Our kids need our help. These kids, these are their questions that they want to know about. Okay, if they really want to have questions about educational policy, I'm sure they would have asked them… Clearly our students are concerned that people who are running for the board might not accept them and might not acknowledge them."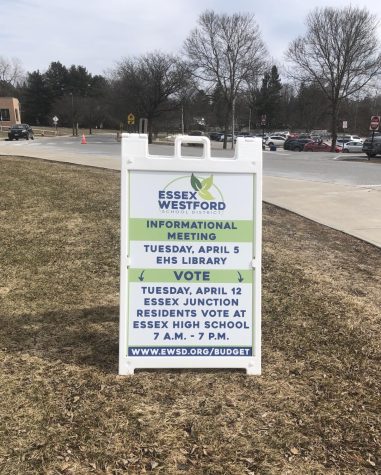 Watch the entire candidate forum here: SJU EWSD board candidate forum
What do you think of the candidates? Let us know at [email protected].
If you are 18, you can vote in the election on April 12th. To register, click here: Voter registration. In November 2020, around 26,000 Vermonters between the ages of 18-24 voted, according to KFF.org. However, as of 2019, there were 65,840 people between the ages of 18 and 24 living in Vermont, according to state data. While all of these people may not be eligible to vote, easily less than half of those who were eligible to vote did so. However, younger students can still get involved by putting up signs for a candidate they support, donating, or talking or writing notes to adults in their lives about the candidates.
To learn more about each candidate, you can visit the links below:
Laura Taylor:
Robert Carpenter:
Al Bombardier:
Roger Drury:
Earl Barber:
Juan Coleman:
Marlon Verasamy: