Senator Bernie Sanders Speaks at Student Town Hall
On Thursday, January 12, United States Senator Bernie Sanders stopped by Essex High School (EHS) and the Center for Technology Essex (CTE) for a student town hall discussion.
Senator Sanders is currently serving his third term in the U.S. Senate. After being the mayor of Burlington, Vermont from 1981-1989, Sanders was elected to the U.S. House of Representatives in 1991 and served there until 2007. Today, Sanders serves on five committees in the Senate. They are the Budget, Energy and Natural Resources, Environment and Public Works, Health, Education, Labor and Pensions (HELP), and the Veterans' Affairs. While not on Capitol Hill, Sanders enjoys his time in his home city of Burlington, VT and going around to different communities for town halls like the one on Thursday in Essex.
The Senator mainly wanted to hear from the students at EHS and CTE and not spend the time period lecturing them. However, he did start the event off by covering a broad spread of topics currently happening in our nation and world. Sanders was clear, our country and world has problems.
 Sanders thinks that climate change is one of the world's biggest problems. "We need to get our act together," Sanders said after addressing the issue of global warming. Some of the ways the Senator would like to address this problem is by focusing on reducing fossil fuel emissions and switching to more renewable energy. Sanders said, "We need to transform fossil fuels into sustainable and efficient energy." He plans on doing this by installing more solar and wind turbines.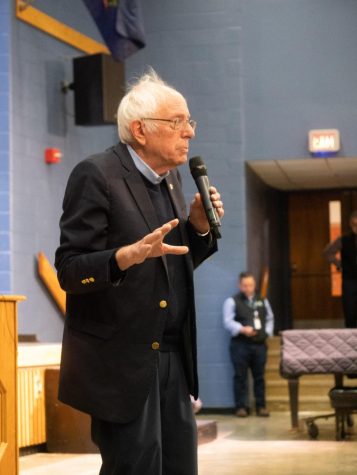 The Senator really emphasized the importance of getting an education. "I want to create a society where everyone desires to go to school," said Sanders. Sanders thinks one of the leading causes of the dropping rates in education is money. Kids leave school in debt and do not have the money to get good educations. This seems to be one of the leading factors that turns kids off from going to higher education, especially kids who have just left high school. Sanders wants a world where people can get a quality education no matter their income.
One of the great features about Thursday's town hall was that the Senator made sure he not only answered questions from the students, but also asked the students questions. He asked the students directly, "Is healthcare a human right?" He thinks so as did many students. 
Along with the thought of healthcare, Senator Sanders quickly touched on the concept of people who live paycheck to paycheck. He thinks that this is a big problem and that no one should be living like that. Although his committee has a few ideas on this topic, they are still searching for solutions. 
Another topic Sanders discussed was America's political system. Sanders thinks it's corrupt and not a true democracy, especially when it comes to campaign ads. He mentioned that the smaller campaigns get blocked off by the larger ones that are backed by people with money. Sanders believes this is unfair. He thinks that there should be more fair representation in politics. 
The Senator spoke highly about the "enormous opportunities" for students in high school and beyond. With the high demand for labor right now, workers are desperately needed. Sanders thinks there needs to be more nurses, doctors, teachers, and trained professionals as they are essential to keep our lives running smoothly. Sanders believes that teachers are especially important because they shape future generations.The Senator also directed this idea towards students who are a part of the CTE program at Essex. He says that there are also dire needs in the workforce for electricians, mechanics, engineers, plumbers, and more. 
Sanders concluded his speech by talking about the increase in people with mental health illness in Vermont, our nation, and the world. He says, "I think that COVID has dramatically impacted the cases of mental health." Along with this, Senator Sanders also spoke on the topic of drugs. He says that drugs are impacting our world a lot, but especially our state. He says that the rate of overdoses in Vermont is higher than it has ever been. He notes that mental health is one of the leading causes of this rise in overdoses because people resort to drugs when they are upset in order to escape reality. Senator Sanders then follows this up with a statement that he hopes people will listen to and understand. He says, "Drugs will end you up in jail if not dead." Sanders then turned the question to us where he asked how we feel about mental health and the use of drugs.
For the remaining time, Sanders turned his attention to the students of EHS and CTE. They could ask questions about things he mentioned or anything else on their minds. Some were more serious and others less so. As one student asked, "Do you still have your mittens?" Sanders responded enthusiastically, "I do!" Other questions that arose include those asking about companies using child labor, inflation, why it is hard to find workers right now, and several more. 
To conclude, Senator Sanders says that there are a lot of tough problems out there, but that we are going to be the generation that works together to fix them. Sanders says, "You are the most beautiful, compassionate, smartest, anti-racist, anti-homophobic generation ever." He says that we are already very open to change. "Nothing is unsolvable."