Behind the Scenes of RENT
Coming Up in EHS Theater!
"How do you document real life when real life's getting more like fiction each day?"
Lights up, 1996, rock opera. There are hundreds of layers that go into the making of a show. Starting with first getting the rights to a script, continuing into analyzing the content matter, constructing the set and props, learning the lines, music, choreography, and blocking; the EHS theater department puts in a ton of work.
When asked for a word to describe RENT, some performers described it as : important, community, authentic, and unapologetic. RENT deals with very real and still relevant topics. The protagonists face poverty, death and grief, and diseases such as AIDS and addiction. The show ends with a message of love and appreciation for your chosen family. As part of the cast, it is very reflective of the time I've been able to work with these people, some of them since sixth grade, and make amazing memories. The theater department hopes to see you there and hopes you enjoy the show as much as they do.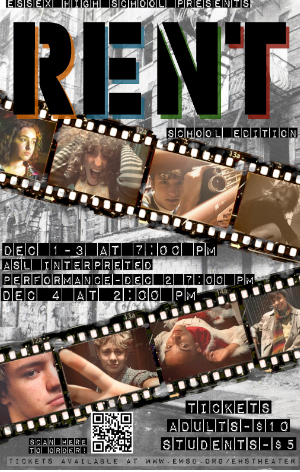 Ticket Info
——————————————————————
$5 for students
$10 for general admission
Tickets will be sold at lunches outside the cafeteria, at the door, and online ->
Note that this show may not be appropriate for young audiences.