Rally for the Planet 2022
For the past five years, the Vermont Youth Lobby has held an annual "Rally for the Planet" event. Unfortunately, the annual event had to take a pause due to the Covid-19 pandemic. Youth Lobby is a student-run organization advocating for climate justice and legislative action in hopes of creating a greener Vermont. On Friday, April 29th, the organization hosted a comeback event in Montpelier on the state capitol lawn. Students, teachers, and local businesses made their way from all across the state to be a part of the event. The focus of this year's agenda was climate, jobs, and justice. This includes green jobs, which are jobs that benefit our planet by not adding to the negative anthropogenic effects already in motion.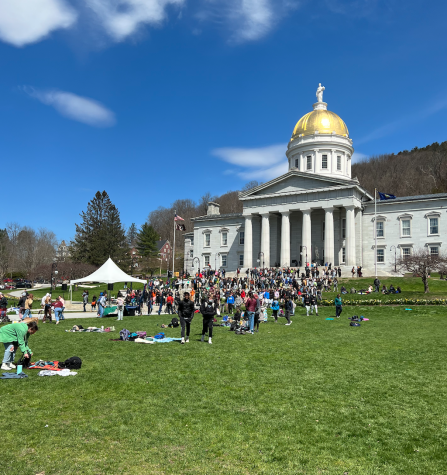 Green jobs are a foundational part of the action plan to fight climate change in a sustainable way. Opportunities for those in need of work accompany the positive environmental changes we see from the work that is already being done. Cleaning parks, organic farming, and even local artistry businesses qualify in this highlighted category. Jenna Hirschman, a student speaker from Essex High School said, "I want to live in a world where green jobs are a central part of students' introduction to the workforce". At the Rally for the Planet, this was promoted through a job fair, which included companies such as SunCommon, a solar energy company in Vermont and New York. They advocate for making renewable energy more accessible and widespread in the best ways possible. Although many of the students who were at the event won't be looking to get into the workforce for a few years at least, the representation of what they could potentially see themselves doing is eye-opening for many.
The day started off at Montpelier High School, where middle school and high school students gathered to make signs, listen to live music, and meet new people interested in the same topics. This lasted for about an hour and a half, until it was time to march to the state capitol. With signs made, hundreds of students proudly paraded in support of the change needed. Examples of what was written on the signs included "The climate is changing, why aren't we?" and "Regulate the Earth like you regulate our bodies". 
As students approached the capitol, they were met with music hosted by the Flynn Center for the Performing arts located in Burlington. The job fair followed shortly after, which included opportunities to talk to legislators such as Sianay Chase Clifford, who is running for the U.S. House. Chase Clifford, a progressive democrat, supports the sentiments expressed during the rally.
Along with politicians, students took to the mic to share powerful remarks. 
Opportunities for youth leaders from across the state to speak out on the inaction they see in legislation regarding climate change is a very important element of the evolving process. Education about climate change is an important first step for getting those apathetic to join the movement. During these speeches, Iris Hsiang, another student from Essex High School, spoke on the interconnectedness of climate activism with other aspects of the community: "A portion of climate change that we have failed to recognize is the intense intersection between climate change and all of the other social issues our communities face". The perpetuating effects of climate change treat everyone unequally, because certain demographics are better equipped to combat the effects in their daily lives than others. This includes economic differences associated with renewable energy and electric vehicles, some people just can't contribute in that way to the climate crisis.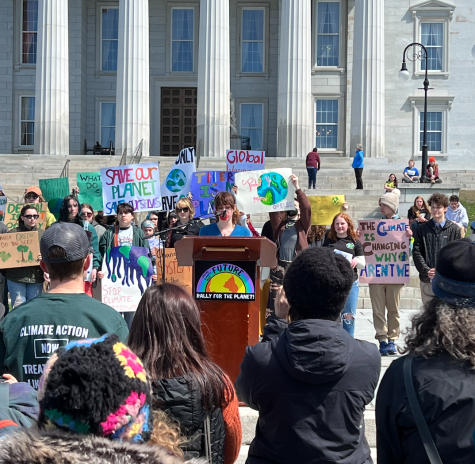 The rally wrapped up with talks about how to get involved with Youth Lobby and how you can make a difference through simply sending an email to a legislator detailing your concerns. It also doesn't have to only be about climate, there are varying issues within our schools, communities, and state that need to be addressed and worked on. With the impressive number of people who showed up to Montpelier on Friday, it seems achievable that there can be a solution created and implemented, with everyone equally in mind.