Book Review: Full Flight
I walked through the doors of the heavily air conditioned Books-A-Million bookstore in Leesburg, Florida, on a quest for my next book. Fresh off my last novel, a mystery titled, A Study in Charlotte by Brittany Cavallaro, which I essentially finished on the flight and drive to and from the airport, I was hungry for something new. While thumbing through the countless books in the young adult section, my eyes landed on Full Flight by Ashley Schumacher, mainly because of the beautiful cover art. The summary in the front cover drew me in further, until I eventually brought it with me to the counter to check out along with a few other finds.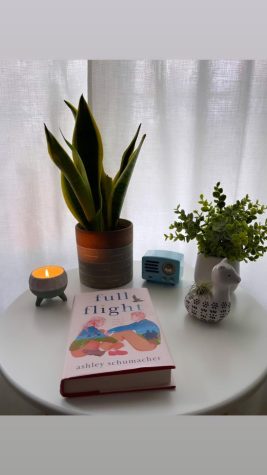 The story follows high school Junior, Anna James, and Senior, Weston Ryan. They are students at Enfield High School, in the small town of Enfield, Texas, and both are in the marching band. Weston is a bit of an outsider. He is a talented musician, and plays multiple instruments, but he is subject to whispers in the halls and rumors spread about him all the time. By Enfield's standards, he's trouble. Anna is well-liked among her classmates and plays saxophone in the marching band. She's always been seen as a goody two-shoes, teacher's pet, and uptight. 
The unlikely pair are assigned a duet and become intrigued with one another as they practice and spend more time together. Their friendship begins to blossom into something more. There is only one issue: Anna's parents are incredibly strict and don't want their daughter anywhere near Weston. To them, they see him as a bad influence. Both Anna and Weston have to ignore others' opinions of them, the cultural norms of their town, and everyone's expectations. 
Full Flight is filled with beautiful metaphors that encapsulate the feelings associated with first love. It is heart wrenching at times and will make you cry – I definitely shed a few tears while reading it on the plane! Through the dual narration of Weston and Anna, the reader cannot help but feel a connection to both characters. Schumacher based the book on her own high school experiences, her first love, and loss of that love, as well as her experiences in marching band. The story feels so personal, like you are walking into the minds of these characters and feeling everything that they feel. Schumacher's rendition of the feeling of being in love for the first time is unforgettable.
If you enjoyed The Fault in Our Stars by John Green, you'll love Full Flight. 
The book recently came out this year, and is not yet in the EHS or Brownell Libraries. However, it can be purchased here.