Q&A with Mr. Stapleton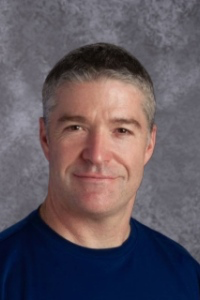 The Hive's, Katie Adams, caught up with Mr. Stapleton, a teacher in the science department, to help students get to know him a bit better.
A: What is a valuable life lesson you've learned from teaching
S: Stapleton: Keep your directions short and simple, but not too short and simple.
A: If you could offer a piece of advice to high school students, what would it be?
S: Be as honest as you can be, and support honesty in others. The world needs more honesty.
A: What was your path to becoming a teacher?
S: Growing up, I always planned on being a doctor, but I never really wanted to be one.  During my junior year of college, I realized that I couldn't go through with it. When I started thinking of other careers, teaching was the only one that appealed to me. I love creative problem-solving, and I have a very strong independent streak. Teaching offered both problems and independence. The basic problem of how to teach classes in a way that was meaningful, fun, or at least harmless, was exciting to me – something worth getting up for in the morning. Having summers off was also a definite plus.
A: What was your first job? 
S: During the summer that I turned 16, I worked on the grounds maintenance crew for the Bulloch County School District in Statesboro, Georgia. My boss, Mr. Hayward, was so happy with my weed-eating that he bought a special weed-eater that only I was allowed to use. It was a big John Deere.
A: Have you ever experienced failure? What was that experience like?
S: All the time. If I'm not failing, that means I'm only trying things that I already know I can do.   If I'm trying to do something important, failure hurts and can be embarrassing, but as long as I have the chance to learn from my mistakes and try again, failure is extremely educational and motivating.
A: Do you have any hidden talents?
S: Towel whipping. [Used to explain physics phenomena] Some have witnessed it, but it's hidden to most.
A: What would a student be surprised to find out about you?
S: I always keep a ukulele in my car, and I play and sing while I wait. I'm waiting less these days, and my playing is suffering.
A: How do you spend your summer breaks?
S: For the last 15 years I have mostly played the role of summer camp counselor to my kids.  But I only have one full-time member of Camp Dad left, and he is just about done with it.  We read, fish, swim, hike, bike, camp, disc golf, catch fireflies and nightcrawlers, play games in the house and in the yard, and make stuff. I never work for money during the summer.
A: If you weren't teaching what do you think you would be doing?
S: If I weren't teaching at school, I think I would still be teaching. But instead of teaching to a classroom of students, I would probably be creating content for YouTube and other outlets. I would work on science content and sustainability, but I'm afraid I would focus mostly on impractical projects that I personally find fascinating.  
A: If you could enroll in another teacher's class at EHS, which class would you choose and why?
S: Great Ideas, with Mrs. Isham. I'm not a good student. I get very sleepy in class (and staff meetings, orchestra performances, etc.), but I think class discussions about philosophy would keep me awake and engaged – especially if I got to argue.
Check out his school YouTube channel, MrStapleton, featuring class related help, as well as new projects.