Finding Community and Exploring Opportunities through EHS Academies
There are many ways for students at Essex High School to personalize their learning experience, including through one of the three academies at EHS. These academies provide extra learning opportunities for students to form connections with other students and members of the community, as well as to gain more exposure to ideas that interest them. These academies are the STEM Academy, the Global Leadership Program, GLP, and the Academy of Visual and Performing Arts, AVPA. Each of these academies holds events, connects students with internships to gain experience in fields that interest them, and guides students through a capstone project or similar experience to showcase their learning during senior year. If a student completes the requirements, they gain the academy's endorsement, which goes on their transcript and diploma and can make them a more competitive applicant to colleges. 
STEM Academy:
"I hope that it's about exploration. I hope it's about connection, and I hope it's about creativity," STEM Academy leader Lea Ann Smith explained.
One form of exploration is through the STEM lectures, short visits, currently through Zoom, from people in STEM professions. Recent lecture topics include a visit from geologist Julia Boyles, who works for the Vermont Department of Environmental Conservation, and a lecture on the importance and meaning of healthy watersheds from Saint Michael's professor Trevien Stanger. Once the lectures give students an idea of the breadth of possibilities in STEM, the required internship allows them to focus on what truly interests them while also giving them the transferable skills that are important for any career. Even if you are not sure that you want to go into a STEM career and,"if you're at all thinking that you don't quite know how your future's gonna lay out before you and you want to get some experience in the different things that you're thinking about, then I think the STEM Academy can be really helpful in helping you decide more about what you want to do with your life," said Smith. One senior in STEM, Amelia Frisbie, came into the STEM Academy more interested in the sciences, but she has learned that she is more interested in math. However, the opportunities she's had through STEM Academy have still been very useful to her. She said, "I went to one [lecture] online… I guess in the middle of COVID. And it was a UVM health lecture about the science behind vaccines, and… they were still in the stages of vaccine trials and they kind of explained like all of the trials. And it was super interesting. And even as someone who wasn't super into the science, [it] totally caught my eye and I was like I have to go to this."
"Connection
"
Another common thread through all of the academies is an emphasis on connection with other students and the community. There are currently around 170 students in STEM Academy, and they are divided into different STEM advisories based on their interest in either engineering, medicine, or science. While the STEM Academy regularly engages with UVM and other local community members, such as in a new watershed restoration project, it also has connections with people across the globe. Last school year, COVID made in-person internships harder, but the STEM Academy got creative. "There was an internship, [with] Global Brigades… We couldn't actually go into a hospital, so we watched what was going on in some clinics in Honduras, and we raised money to give to them…  in return for the time we spent online in the clinics," Mrs. Smith shared. While many students like to intern at the UVM hospital, Frisbie wanted to find an internship in finance. She said, "I definitely appreciated how open like Mrs. Smith and Ms. Hemingway were to finding an internship that fit my needs… It definitely has gotten way more clarity on what I want to do. And that's been really helpful … preparing for post-school graduation and…  it's definitely given me… more confidence." 
"Creativity"
In addition to an internship, participation in a STEM advisory, attending lectures, and taking at least 9.5 STEM credits, STEM students create a capstone project, typically during their senior year. This is an opportunity for students to explore their interests and find creative ways of expressing their learning. Students also participate in monthly workshops ranging from fun math activities, to science olympiad, to sticker-making.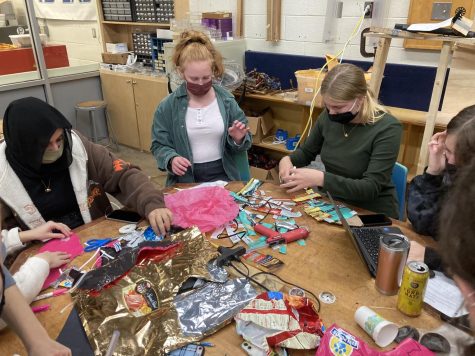 Students can also occasionally run their own workshops, like the climate activism workshop shown to the right. In this workshop, students made fish collages with plastic trash. They were later taken to an event at the statehouse.
Takeaways
Frisbie said that her biggest takeaway from her time in the STEM Academy was "I don't want to study science," but she doesn't at all regret her experience. It helped her build her soft skills, confirmed her interest in finance through her internship, and gave her access to other interesting opportunities she wouldn't have been able to do otherwise. To any interested students, Frisbie said, "I would say join. It's not a permanent decision. You can withdraw from STEM a few months into your senior year without ever showing up on transcripts or anything so I would say do it, commit to it, see how it goes. And worst case scenario, if you don't like it, you can switch back. But I would say try it, and there are a lot of opportunities that will come out of it."
GLP 
While the STEM Academy works to incorporate some globally-focused elements, being globally aware is the main focus of the Global Leadership Program, or GLP. Jill Prado, the leader of GLP, described it as "global and multicultural; relevant and student-centered; innovative and fun."
"Global and multicultural"
The Global Leadership Program works to connect with students from all over the globe, bring in speakers who have global experiences, and give EHS students greater access to language learning opportunities. One GLP student, Julianna Mazzella,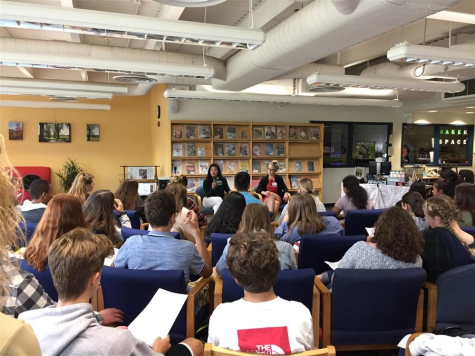 explained that the global interaction was what drew her to GLP. She said, "It was so interesting to me to hear that… we would be talking to the kids and the people from all over the world, these amazing ambassadors and speakers that we've had the wonderful opportunity of talking to…. I know I'm going to take [this] with [me]… past high school."
One of the main events that the Global Leadership Program has is the international exchange. While this usually is an in-person exchange with students traveling to Europe, this year and last it has been virtual. This year's exchange is currently ongoing, and Mazzella has found it very valuable. She said, "we're connected to a mindset within ourselves. Like what I mean by that is, we live a very certain life because we're in the United States… if we run up with systems that we're so accustomed to, that we don't realize all the time… it's so eye opening… to talk to them and then hear about their lifestyles, their families, the similarities, differences."
"Relevant and student-centered"
In an increasingly globalized world, Jill Prado, the leader of GLP, notes that "there's a wide recognition among students and their families that… they need to have a global focus in the world to be functional, to be competitive. To be able to navigate any kind of future college or career experience. So that's the first thing, that global awareness, [which] they recognize as being truly crucial. And secondly,…  students are interested in being distinctive."   
"Innovative and fun"
Between the language learning series in Russian, Italian, and more, the speaker series, and the international exchange, "there's definitely these little fun things that are always available," Mazzella said. Past speakers have included a political podcast writer, an engineer from Boeing, and an expert in culturally-responsive education.
Takeaways
"There's so much more to the world that we don't see. And GLP has allowed me to see a little bit more if that kinda makes sense," Mazzella reflected. To students who may be interested in joining, she said, "If you want to do it, I strongly encourage you to do it. It's a very loving and tight-knit community and you know,…  and you will [be] guarantee[d] to leave… knowing something you didn't know coming in… It'd be a life changing experience, no matter how much you're associated with [it], if you come to just the speaker series, or if you become [more] involved in many of the activities we offer. Either way, you're going to get something out of it that you can't in any other program."
AVPA
Alexis Koch, the leader of AVPA, described the academy as "welcoming, creative and nurturing."
"Welcoming"
AVPA is the smallest academy, with 80 students currently. The size allows AVPA to be a "kind of a home for artists to feel comfortable with each other. Really creative people… thrive when they're around more people who feel the same way and who are as passionate about their art as they are… The community aspect is really important for our students because they end up collaborating with each other on art pieces a lot outside of anything we're requiring of them. A lot of friendships and projects happen that way," Koch explained. Even if you don't feel comfortable identifying as an "artist," and just enjoy being creative, AVPA can be the place for you. Koch said that "many of our students join with just this inkling that they like to be creative and they have no idea what that could look like for them after high school… they're like, 'I just like to draw, I think this might be the right place for me.'"
One of these students, Lydia Eldridge, joined the program as a sophomore and is now a senior. Eldridge agreed that community is the most valuable part of AVPA, describing it as "just like a little family." She explained that without her peers and other "members of the art community," she wouldn't be as motivated or have as much confidence in her art, saying, "a lot of my really good friends in AVPA… encouraged me to keep expanding and working on on, you know, myself and also like, improving my art pieces in general and [it's] validating to have other students in the same sort of field."
"Creative"
When Eldridge joined AVPA, she said "I didn't know that [props] was something I was interested in. I've always loved art and I, as a kid, actually wanted to be an art teacher for the longest time. And then when I went into AVPA, [and] my horizons broadened." A major way students are exposed to new art forms is through the workshops. For example, this year there has been African drumming, African dance, Adinkra textile printing, oil painting, and photography. Previous workshops have ranged from everything from vocal percussion to animation. These workshops are designed to stretch participants' creativity, but, as Eldridge explained,"there's no pressure to do well, like this experience was just for, you know, having fun, and connecting [with the community]."
"Nurturing"
As a part of AVPA, all students are required to complete a short internship during junior year. Koch described the process as being really "geared towards the student and what they want." She listed off some examples of past internships: "we had a student work with a Hollywood film editor and learn how to edit trailers for Hollywood movies… We've done graphic design. We had someone working with a comic to do comic art. Lots of students are interested in teaching so we'll pair them with another teacher in-district in music or art… But it doesn't have to be an art internship. Sometimes, someone loves their art, but they're just really interested in biology and they want to do a biology internship. So we will pair them that way too." Many students continue with their internships after the required time is finished, and that can evolve into jobs or lead to references for post-high school programs. While most internships last year and this year have been virtual, they can still be very rewarding experiences. Eldridge interned with Nicki Koolhass, a prop designer in Wisconsin, and said, "[Koolhass] taught me a lot of tactics that I've never even would have… thought to try before." 
In addition to the internship, all students must complete a capstone project senior year. This is an opportunity for students to put all of their learning from the program into one project of their own design. Koch explained that "the idea behind the capstone project is that you're giving back to the community in some way and using your art form to give back to the community. So you know, people come up with a lot of different ways [to do that]," like painting murals in the community, creating content for other classes, interacting with a Japanese exchange program, or putting on a benefit concert for Aunt Dot's Place.
Takeaways
When asked about what she would say to students who are interested in joining, Koch said, "I would say if you have a heart for creating and connecting through art to contact me, or just go ahead and join. We make the process very inviting, and… we help you through it. So it shouldn't feel like this big thing that you can't commit to." If a student decides to leave the program, they must decide before October of their senior year.
Eldridge's biggest takeaway from her time in AVPA is that while "there's this just really heavy stigmatism that, you know, if you go into the art field that you're not going to make it… but AVPA really taught me that as long as you're willing to go out and work hard for your dreams then you can then you can achieve it… [I want to be a props designer]… and everybody's like,'That's not like a real job.' I got told that a lot… but here I am… [probably] going to London College for my specific program, which I think is pretty extraordinary." She also wanted interested students to know that "you'll make fantastic friends if you join AVPA. There's no doubt about it."
The deadline to apply to all three academies is February 18th. For more information, visit the EHS website or reach out to the academies' leaders.