To Play Or To Park: The State of Parking at EHS
This year, 129 citations have been issued for parking related incidents in the Essex High School parking lot. The number of accidents is unclear.
Essex Westford School District policy states that: Vehicles must be parked properly within striped parking stalls and are restricted to a speed of fifteen miles per hour on school property and that students must display their parking permit, be on time to school, and attend all classes/study hall/advisory academic support blocks.
By block 3/4, students often note that seemingly all of Essex's 714 marked parking spaces (including CTE parking) are full.
Students  often complain of not being able to find adequate parking if they arrive after about 8:00 AM.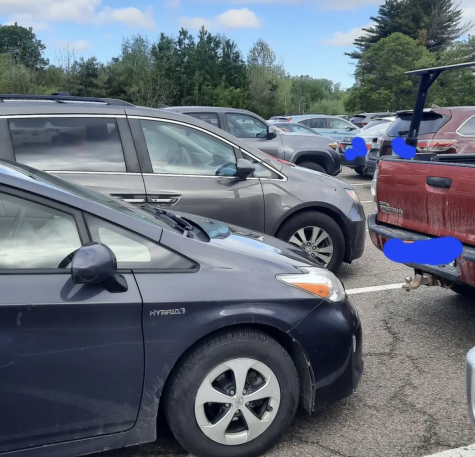 Theodore Sopchack, junior at EHS, said that he couldn't find parking "any time past 7:50 AM."
When asked about his experience with finding parking at EHS, senior Will Powell, shared his frustration with his experience.  "There's no parking after 8 a.m. It poses a real problem," Powell said.
Garry Scott, the Director of Safety & Emergency Preparedness for the Essex Westford School District, is responsible for the culture of safety and emergency preparedness district-wide. 
"Students who drive to school must demonstrate safe and responsible driving habits. There is not a cap on parking passes," Scott Said. "380 students have parking passes, 114 EHS staff, and 110 CTE staff."
Within the 714 available parking spots, there are roughly 110 cars that park without a pass. This begs the question: what must be done to improve parking at EHS? 
"We are in year two of a three year process of data collection to determine if we actually need more parking," Scott said. "There are numerous factors to consider, the biggest being our stormwater impervious pavement permits."  
Vermont state law designates impervious surfaces as man-made surfaces, including paved and unpaved roads, parking areas, roofs, driveways, and walkways, from which precipitation runs off rather than infiltrates.
"Currently, the campus is at max capacity," Scott said. "If we add more parking we would have to remove something – like the track or the tennis courts."
Senior Class President, Darrian Michaelides, doesn't think it's necessary to disturb the track area. 
"Cutting into the track and tennis courts would only negatively impact the community and students who rely on them for training and recreation," Michalides said.
Many students feel as though they are unsafe in our parking lot. 
"I almost get hit every time I try to cross the crosswalk. Nobody's watching. People go 50 (mph) every day," Sopchak said.
Some students feel that there should be different rules for underclassmen parking. "I feel like there should be one designated parking lot where they can park. Put them in D Lot or something," Sopchak added.
Director Scott explained the punishment for poor parking. Consequences are issued through a series of "offenses."
"1st offense: written warning on vehicle. 2nd offense: written warning on vehicle and notification to caregiver. 3rd offense: loss of parking pass and notification to caregiver. 4th offense: internal school discipline," Scott said. 
There should be spots for everyone, but it might mean getting to school just a little bit earlier.  "At this point, everyone is able to find a spot for their car. They just need to look in the farther lots near the track," Michaelides said.