New Media Opportunities at EHS
Have you ever wanted to become more familiar with cameras or maybe just start experimenting with them? Well the Audio/Visual Department (AV) at Essex High School is the perfect place for you to start getting creative!
Let's introduce some of the faces that make this department run. Jesse Keefe is the AV specialist at EHS. He is always available to get you the best setup for a job or project. Every time you walk into the studio, Jesse will be there with a smile on his face. 
"I'm always available to help students use the equipment or anything else in the room," Keefe said.
Cole Picard is the AV technician. He will fix any problems that you may have with your tech devices.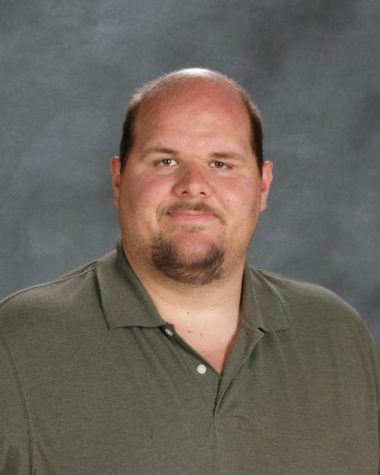 If you decide to stop by the AV department in the school library, both Picard and Keefe will be happy to help. You can count on them to get you the best camera set up and keep any problems resolved.
What can you find in the AV department?
The AV room at EHS is full of a wide range of media equipment. The best part is anyone can borrow anything they want! All you have to do is fill out a quick permission slip and get it signed by a parent or guardian. Just stop by to see Jesse and he can get you one; they are also on the school website under the AV department page.
Okay, finally on to the actual camera equipment. There are so many different choices at AV, so here is a short summary followed by the list itself.
AV has a variety of cameras for video and photo. In addition to professional cameras, they also have a GoPro kit for action shots. There are all sorts of microphones for different purposes, and extra lighting setups will ensure no shot is poor quality. There is also no shortage of camera mounts so your shot is professional and creative. If you are looking to edit your media, then stop by simply to use one of the many computers fit with the complete Adobe Creative Suite. No matter what you are feeling – photo or video – the AV department has the tools you need to create a masterpiece. 
Here is the full list of equipment available for student check out:
Panasonic GH3 / GH4 digital camera (video/stills)*

Panasonic GH5S digital video camera kit

Nikon Digital Camera D5100*, D5200*, D3500*

handheld digital camcorder

GoPro camera kit

Canon XA20 Professional HD Camcorder

tripods / monopods

lighting kit (and reflectors)

On camera LED light

wireless and overhead boom mic

wired lavalier mic

on-camera Rode microphones

handheld sound recorder Zoom H4N, Tascam DR-05, Tascam DR-40

camera crane

magic arm with clamp for creative mounting 

glidecam sled or complete glidecam setup (vest, arm and sled)

shoulder camera mount

teleprompter & iPad

for studio use only
There is also a space for interviews or anything else you want filmed with a nice studio look.
When asked about who uses the resources offered at AV, Jesse says, "My idea of this room is I want everyone in here, and at some point all the classes, to be involved with this room in some way for any project they are doing."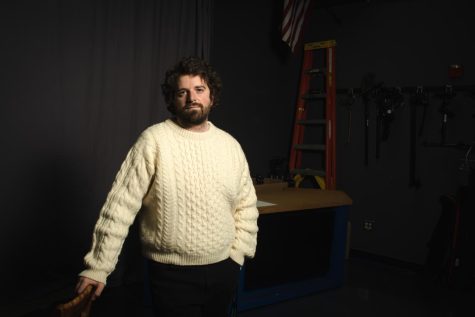 What classes can you take that involve new media?
Essex High School has plenty of fine arts and practical arts classes that involve new media. New media is a wide field of work involving technology. It's often used when talking about cameras because there are so many different fields that relate to them. It's similar to a big umbrella that houses all the smaller professions. Examples are film, photography, graphic design, and more. 
Here is a list of SOME of the art classes students can take involving new media:
Movie Production I

Movie Production II: Advanced Cinema

EHSPN

Photography I

Photography II
Again, these are only some of the many options you can choose from. Below are links to the EHS website if you would like to dive deeper into the classes.
How has the AV department impacted me? What does that mean for you?
On a more personal account, having the AV department in our very own school has really allowed me to continue to build my film and photography skills. Not only can I keep my skills fresh, but I now have access to much more equipment than what I have at home. This space helps my work have a more professional look as an end product, and the same can apply for you.
If you have never picked up a camera, go outside and try it one day. You don't need a fancy or expensive camera (but AV has those for you), any phone will do. You might find that it's exactly what you've been looking for. It's just about getting out into the world and looking at it through a new perspective, a new lens.