Behind the Scenes of the EHS Cafeteria
If you get school lunch, have you ever thought about how it got to your plate? You may be surprised when you find out what goes on behind the scenes at the Essex High School cafeteria
Scott Fay is the Director of Child Nutrition in the Essex Westford School District (EWSD). Fay said producing a meal is a drawn-out process, and it requires a lot of steps.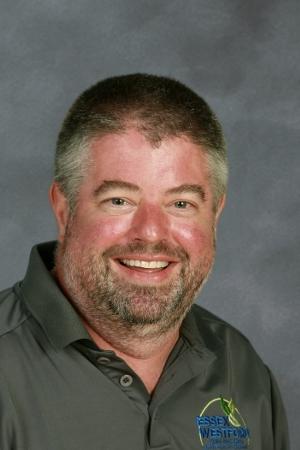 It all starts by identifying what is going to be served. "We do that with student feedback, and things that are popular trends in the industry," said Fay. He also works with other school meal directors around the state to hear what they are serving. "I always look at everyday's sales data as a survey." 
Once they have an idea of a meal, Fay said they have to come up with recipes. Any meal the school produces has to meet the United States Department of Agriculture (USDA) nutrition requirements. "That is about calories per plate, sodium, saturated fat limitations, and whole grain components. We develop a recipe based on what we want to do utilizing the food requirements," Fay shared.
Moving to the kitchen, there are specific stations that help with producing large amounts of food. The kitchen at Essex High School (EHS) is divided into two main sections. One being for the production of the kindergarten to 8th grade (K-8) schools, and the other being for EHS. Some staff work on the Chef's Special, others work on preparing the sandwich line with all the fresh ingredients, and the last area the staff work on is the grab and go line. 
"Basically, we have four things happening. The three serving lines for EHS, and the production for our K-8 schools," said Fay.
All these different tasks require a significant amount of staffing. "We have about 20 people who work here," Fay said. On average they kick out around 850 fresh meals each day for EHS students and staff, and in addition they produce another 3,200 for the other schools in the district. Fay explains that all the schools are staffed with cooks and servers, however, if the food can be made at the main kitchen here at EHS, it will then be driven to the other schools.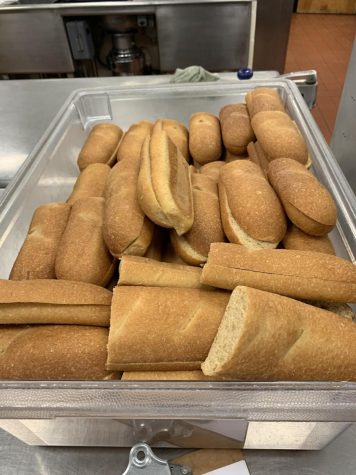 Producing this many meals is no easy feat, so the kitchen is filled with industrial sized equipment. "We have big walk-in coolers, big walk-in freezers, we have a big twelve burner stove, and we actually have six full sized convection ovens," explains Fay. On top of that they have a commercial steamer with two sixty five gallon kettles, a flat top, and all kinds of smaller refrigeration for keeping the food fresh.
The meals that Fay and his team produce do have a price. Breakfast and lunch are different in cost as lunch is a bigger endeavor. "At breakfast the cost is probably $2.25 per meal, and we receive $2.50 per meal. And then for lunch it's about $4.25 [per meal], and we get back almost that same amount," explains Fay. The food is roughly half of that and the labor is the other half. 
The Universal School Meals (USM) act is something Fay is really passionate about because he sees the benefits of it first hand. The legislation was passed during the start of the pandemic when parents struggled to feed their kids. Advocating for the continuation of USM is a big part of what he does everyday. "I was in Montpelier quite a bit actually testifying in committees," Fay said.
It will continue for the remainder of this school year, but Fay said there is no funding to keep it going after that. 
"Our work has just begun," he said, "as everyone is back in Montpellier for the start of the legislative session." Fay and his team are heading to the State House on Wednesday, January 25, to start the process for continuing the USM.
Fay thinks continuing the free meals is the right thing to do. He said, "Every kid in this school has access to the same things in this cafeteria." When he first started at EHS he said there was an "expensive meal" and a "cheap meal". "It was so unfair, and I think caused a lot of kids not to eat at all because it was an uncomfortable environment," Fay remarks.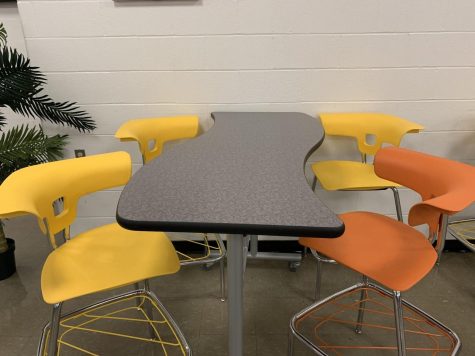 Another plus about the USM is it has allowed Fay and his team to invest back into the cafe itself. "We bought all new furniture, we got it freshly painted, and we got all these pictures and artificial trees put up," he explains. Being able to add these decorations has brightened the atmosphere and changed the mood inside the lunch room.
When it comes to improvement in the quality of the meals, there is always something to work on. "Training is a big one," Fay said. That includes staff education on how to use the equipment. Fay also tries to bring in the freshest components possible for each meal. "We work really hard to bring in quality ingredients," he said. Local beef from the LaPlatte River Farm is a great example. 
Fay also explains that if you start with something good, the chances of finishing with something good are much higher. Fay said when he first started working here, 15 years ago, the chefs would cook everything for lunch at around 10:00 am, and then keep it warm. Fay has worked to change this by perfecting the timing of when food comes out of the oven to when it is on your plate to create the freshest meal possible. 
"Staffing this place with people who care is really the most critical piece to you seeing a difference in what quality food you're getting," Fay emphasizes.
When asked what his favorite EHS meal is, Fay responded, "Our ramen bowl!"
Fay enjoys his job and is always looking for ways to improve the cafe and the food. If you have any suggestions or comments for Fay and his team please reach out at [email protected]. He loves to hear from students!