EHS at the Eras Tour
Over the past few weeks, Taylor Swift has been performing all over the country. Out of all the 200,000 people who went to the Gillette Stadium shows in Foxborough, MA, among them were many Essex High School students.
Maddie Ahmadi, a 12th grader at EHS, went to the Saturday, May 20 show. That night the guest artist was Phoebe Bridgers, who Swift brought out to sing "Nothing New" from her newly released version of Red in 2021. When asked about what it was like being there, Ahmadi wrote about the overall unreal impression the show gave her. 
"It was a surreal experience. We were caught in an absolute monsoon of rain. By the end of the show my shoes were like walking in mini lakes. Her show is truly an experience unlike anything else," Ahmadi said. 
Ahmadi's favorite songs from that night's show were "The Man," "The Last Great American Dynasty," and "Love Story." She wrote about how exceptional the show was.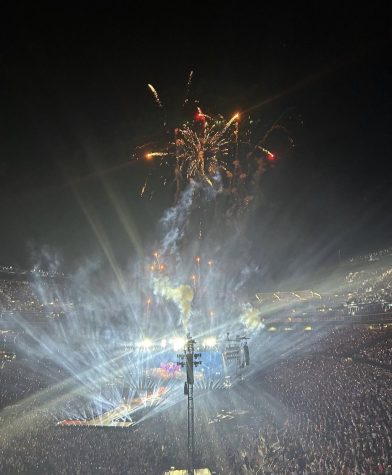 "But, without a doubt, "Midnight Rain" in the deluge of rain was truly so special."
Ahmadi wasn't the only EHS student to attend a Swift concert that weekend. Both 12th grader Lona Davis and 10th grader Aggie Morse went to Swift's third concert on Sunday the 21st. For Davis though, her highlight was just the overall energy of the show.
"It was an incredible experience, definitely one of the best nights of my life," Davis said. "Taylor does an amazing job putting on a show. The energy she creates is super fun."
Morse also had a great time at the third night show, but her favorite memory was before it even started.
"One of my favorite things about the Eras Tour concert is the friendship bracelets that everyone makes to trade with each other," Morse said.  "It was such a great way to connect with complete strangers over a common interest that everyone there shared and a perfect segway to talk to new people and make new friends!"
Morse recalled a specific time she remembered meeting up with a fellow Swiftie in a Starbucks the day of the show.
"The day of the concert I went to a Starbucks and a little girl in line saw my friendship bracelets I had made and told me she was never able to get tickets," Morse said. "Instead I gave her a friendship bracelet and she was so happy. It was such a cute and innovative way to interact with other Swifties!"
Music being able to bring together 70,000 people is amazing and truly a sight to see. And although she may not know it, Taylor Swift has a passionate group of fans right here in EHS.