Summer Vacation: Books to Dive Into Over Break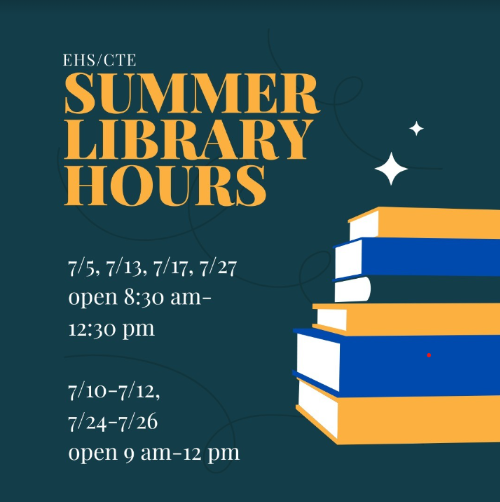 With dreams of popsicles and days under the sun almost close enough to touch, the Essex High School library has your back when it comes to finding the perfect book to savor by the pool or speed through while escaping the heat.
The Hive contacted Essex High School librarian, Liz von Nagy, to learn more about what our very own library has to offer over summer break.
The process of checking a book out to read over the summer is similar to the process of checking a book out during the school year.
"All books checked out from now until the start of school will be due on September 1, 2023," von Nagy explained over email. "We are a fine free library, so there is no such thing as an overdue fine here at the EHS/CTE Library."
Unlike during the school year, though, patrons may check out an even larger number of books.
"[You can check out] fifteen," von Nagy wrote. "But if you really really wanted a sixteenth, we won't say no."
Students may check out books up until the final bell rings on the last day of school.
"You can absolutely stop down to the library during off blocks and free time to get some great reads," von Nagy assured.
If you need to return a book during the summer or find a new one, limited summer hours are available. 
The EHS/CTE library will be open on 7/5, 7/13, 7/17, and 7/27 from 8:30 am to 12:30 pm. It will also be open on 7/10-7/12 and 7/24-7/26 from 9 am to 12:00 pm.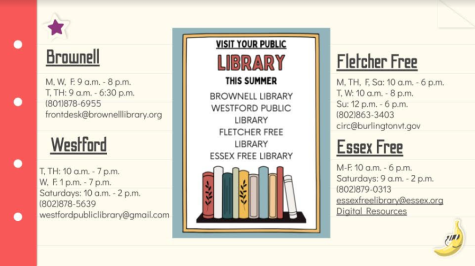 If you are unable to visit the EHS library during the available hours, there are other local libraries and bookstores where you can borrow or purchase books.
"Visit your local library or an independent bookseller, like Phoenix Books!" von Nagy wrote.Von Nagy provided another graphic with local public libraries students and staff may visit to check out books and other media.
For those looking for recommendations, von Nagy was well prepared.
"Right now I'm reading Messy Roots," von Nagy wrote. "Which is a graphic memoir about Wuhanese America."
Von Nagy had more recommendations up her sleeve; the beloved EHS librarian wrote that students should take a look at the The Green Mountain Book Award Nominees for the 2023-2024 school year if they are looking for suggestions. The list can be found here.
Von Nagy even provided an additional slideshow with information about summer reading and literacy in the EWSD to wrap up our interview.
"Anything off of the student or librarian pick slides would be great too!" von Nagy wrote. "Those are on slides 21 and 22 in the presentation."
That slideshow can be found here.